How to Make $2,100 in Almost Passive Income in 18 Months!
Saturday, September 5th, 2015 at 10:38 am
$2,100 Per Month (Net): This is actually a goal I am working towards and believe I will hit within the next 12-18 months.
I am currently making $4,500+ per month (Results not typical) with this method but this is gross revenue and I am using the proceeds to grow it to $21,600 per month. I'll explain…
I am using an old business model to do this. That model is online advertising.
First of all, know that Online Advertising is a near half-TRILLION dollar industry.
This is the same model that Google and Facebook are using with their Adsense and PPC platforms, respectively.
When these 2 companies first got started, they did not have advertising platforms. They realized the opportunity in advertising and developed them for the online world.
Now, as you already know, TENS of BILLIONS of dollars in advertising spending are earned every quarter by said companies.
This is from Google's latest earnings for the period ending March 31, 2015 and dated April 23, 2015:
'Google's first quarter revenue was $17.3 billion, up 12% year on year. …..revenue grew a healthy 17% year on year,' said Patrick Pichette, CFO of Google.
'We continue to see great momentum in our mobile advertising business and opportunities with brand advertisers.'
(https://investor.google.com/earnings/2015/Q1_google_earnings.html)
You see, Google's biggest business is not their Search business, which they were founded on…its their Advertising business!  If you extrapolate this out to a full year, then this means that Google rakes in $69.2 BILLION a year in online advertising revenue alone!

The CFO also mentioned how mobile advertising, in particular, is gaining momentum.
This is the same industry I am working in right now…So the business model I am using is also an advertising platform but this one is a private paid traffic exchange network.
Since online advertising, which leads to traffic, is the "picks and shovels" of the internet, it is always a good business model to get into.
Though it is not a platform as big as Google's, (its actually quite small and still fairly new), this particular platform that I use is one where members like me actually GET PAID to use it – unlike Google's!
Is your business model better than Google's? Most likely not! Therefore, rather than trying to beat Google's model with some other model, I have decided to JOIN them using their own business model.
The company I'm talking about has improved it slightly, though, by paying people to use it! We are like a small family building up our own advertising platform from scratch.
We have an incentive to do so since the company behind the platform pays us a small profit per credit pack to use the site, advertise on it, click on a few ads every day as members are required to actually be active on it, and to optionally use its referral program, if you so choose (Highly recommended).
Members purchase credit packs, which are advertising that give members 550 credits per credit pack to advertise on the traffic exchange network.
These credit packs cost $50 each and expire in about 120 days, where they will each generate $60 in revenue upon expiration, leaving $10 profit each.
The maximum amount of credit packs allowed to accumulate and maintain is 1,200.
Since each credit pack generates a profit of $10 upon expiration, $7 of that is left for the member to withdraw and spend, or to repurchase more credit packs with, and $3 goes into your personal advertising fund, which I will explain about later.
I use the "accumulation" strategy to build up to 1200 credit packs, which will then support an income of $12,000 upon expiration of the original 1200 credit packs.
Depending on how many credit packs you start off with, this could take around 18 months to accumulate. Some have done it in a few weeks, or a single day if you have $60k lying around to buy 1200 credit packs all at once.
But for the rest of us that don't – getting started with 100 or less is fine. I personally started with 30.
Now as for how I get to the $2100 per month figure?
Each credit pack can only earn up to $1 per day – but is currently averaging around $.60 cents. This figure varies but for simplicity sake, lets keep it at $.60 per day per credit pack.
Once I hit 1200 active credit packs then they should be generating around $720 per day on average, or $21,600 per month.
At the current expiration rate of 100-120 days (4 months), then at 1200 credit packs, I expect to be replacing about 13 credit packs per day as they expire, or $19,500 per month.
That leaves $2,100 per month net profit that I get to keep in my pocket. And that's only if I don't refer anyone.
If I do refer other members, I get a 10% referral commission, the highest rate, which I pay $200/yr to be in this level of the referral program (this is optional).
I pay this fee with the earnings of my credit packs anyway so it does not come out of my pocket. So that will add another $1500/mo ($18k/yr.) for every member who I personally refer that also builds to and maintains 1200 credit packs.
Why would anyone not maintain 1200 credit packs if they are making $2,100/mo net profit to do so?
If you start with 20+ credit packs right away, then you should be able to do this within 18 months, give or take a few months – but all you need is 1 to start, but it will take a lot longer.
In addition, 5% of all the advertising you purchase for yourself, goes into your own personal Advertising Fund in which to purchase more advertising with and pay for the annual or semi-annual membership fees.  You cannot withdraw from this pool for any other purpose.
I think this is ingenious and very exciting – to build our own advertising platform where its members GET PAID for building it.  This network has grown from 1 to over 188,000 members currently and still growing rapidly.
Guess what? YOU helped build Google. What did you get? NOTHING!
YOU built Facebook to what it is today. What did you get?
Right again: NOTHING!
In fact, NO ONE got paid anything to help build those sites! (Their CEOs and shareholders are the only ones getting paid now)
And Isn't it better to GET PAID for something you did than not? Damn right, it is! (I know you were thinking that too! LOL)
If you'd like to do what I do, CLICK HERE and get all the info.
Here's your chance to profit in the same market as Google and Facebook. I wouldn't wait – click the link above NOW!
——————————————————-
Disclaimer: My results are not typical. I am willing to click on 10 ads per day for 5-10 minutes each day. I don't know if you are willing or committed enough to do that. Those that do, make money…PERIOD!
~Mike J Anthony
'Won't Stop trying for Change!'
http://mikejanthony.com/getpaid72timesdaily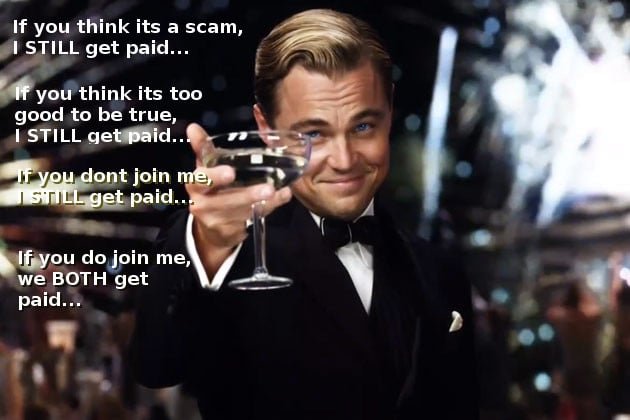 Tagged with: how to make money online fast • mike j anthony my advertising pays • ways to make money online fast
Filed under: Makin Money Online
Like this post? Subscribe to my RSS feed and get loads more!