How to Get An American Express Black Card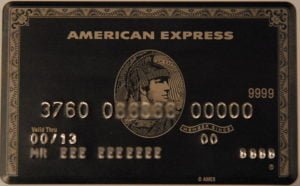 The American Express Centurion "Black" Card, the cadillac of all credit cards.
You know you've "made it" if you can get your hands on one of these.
What makes it so special? Read the following from an article entitled, How to Get the Amex Black Card (http://finance.yahoo.com/news/pf_article_109721.html):
…..up until 2006, the Black Card was issued to preferred clients by invitation only.

So how do you go about getting a Black Card? The good news, as it were, is that you no longer have to be invited by Amex to get one. Just call Amex and ask. To heighten your chances, you'll need to accomplish the following (from the blog QuickSprout.com, whose founder is a Centurion cardholder):

• Have a nearly blemish-free credit history.
• Spend at least $250,000 annually on a current Amex Platinum or Gold card.
• Accept a one-time card membership fee of $5,000, along with an annual fee of $2,500.
• Have a "major" net worth (undisclosed by Amex).

You can call and ask for an invitation at 1-800-263-1616 — but this ploy definitely falls into the "it can't hurt to ask" category. If you do, be prepared to answer some tough questions.

One hurdle, for example, that would be tough to crack is the $250,000 annual spending minimum. That's about $21,000 per month and most individuals would balk at spending that kind of dough. QuickSprout advises offering to pay the money upfront, to convince Amex you're a good credit risk.

If you want to bypass the invitation/application route, you need to be both successful and creative…..
I once knew of a PPC (Pay Per Click) marketer who touted his ownership of one of these Amex Black cards.  He wasn't trying to brag but he was showing what was possible if you focus on his PPC method of making money, which was Google Adwords at the time.
Those who can be successful at the Google Adwords game can surely make a lot of money.  A big gun PPC marketer would surely spend enough in advertising costs to meet AMEX's $21,000/month spending limits. But Adwords has gotten much harder and much more expensive these days.

There's an easier way.  Reaching top earner status in My Top Tier Business (MTTB) could land you one of these prestigious American Express Black cards too.  You might struggle at the bottom for awhile but there's plenty of room at the top.
If you're spending $21k per month in advertising, using MTTB's sales funnel, then you've surely reached the top and most likely can afford having the American Express Black card.
Click Here for more information on MTTB
Time to hit the top ranks…
See ya there,
Mike J Anthony
"Won't stop trying for change"