Matfer 915901 Bourgeat Copper Cookware Set
Matfer 915901 Bourgeat Copper Cookware Set
This Matfer 915901 Bourgeat Copper Cookware Set is the perfect set for professional home cooking.  You may have seen copper cookware sets while walking past in your favorite retail outlet and wondered why copper pans are so good, right?
Why Are Copper Pans Good?
Copper pots and pans are good because they conduct heat very well, better than steel. Its the same reason why some people love copper spark plugs in their engines rather than the common double platinum. The platinum types lasts longer but the copper conducts heat better during its lifespan.
In cooking, copper distributes the heat more evenly across the surface of the pan, making for more stable and efficient cooking.  Its worth mentioning that the copper is only plated outside the pan where the heat touches it, and not inside, where the food touches it.  The inside is lined with stainless steel to provide safety for eating.
Matfer 915901 Copper Cookware Set
This copper cookware set is made from 2.5mm pure red copper and lined with 1/10mm 18/10 stainless steel of the highest quality. This set is made for the highest heat conduction.  The cast iron handles are weight balanced and fastened with extra heavy rivets. This type of cookware set requires those who enjoy taking special care of their cookware.
Bourgeat Copper Cookware is the best available because its one of the only brands that polishes its copper on the inside and out, which makes for less sticking.  It uses high quality, food grade 18/10 (18% chromium / 10% nickel) stainless steel on the inside lining.  It has additional nickel in the stainless steel lining to make it sturdier and more corrosion resistant.  The more nickel in the stainless steel, the more resistant to corrosion, and this copper cookware set has the highest food grade percentage of nickel.
The edge rims on this cookware set are drip-proof. This means you wont have sauces, etc, running down the sides of the pans all the time.  The lids drop right into the pots and pans perfectly like a glove.
There is no need to cook with very high heat because of the high quality consistency of the copper heat transfer.  This is the best quality of this copper cookware set and your food will come out fabulously. The reported performance of this particular Matfer 915901 copper cookware set is very high.

You will also need to maintain the polishing on them if you want to keep that amazing kitchen look.  You can use this copper cleaner cream.
What Does the Matfer 915901 Copper Cookware Set Include?
There are 8 individual pieces which include: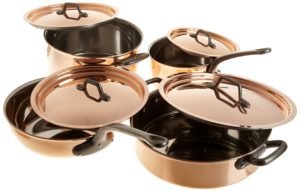 1. 9-1/2″ Casserole, 5-3/4 qts.
2. 9-1/2″ Copper lid
3. 7-1/8 Copper sauce pan", 2-5/8 qts.
4. 7-1/8″Copper lid 
5. 9-1/2″ Copper flared saute pan, 2-3/4 qts.
6. 9-1/2″ Copper lid 
7. 11″ Copper Brazier, 5-1/4 qts.
8. 11″ Copper lid 

Shipping Weight: 40.6 lbs